Who are we?
The Château de Presles, a stunning XIX th century mansion, is definitely one of the very remarkable monuments of our country. Its location within an admirable 200ha . secluded private park, and the care its owners, Count and Countess d'Oultremont devote to maintaining its identity, make it an example of intelligent conservation.
Since a short time, it is open for the organization of high quality private events , with its park of exceptional beauty, and its many lounge and living rooms ready to greet its new guests.
Range of possible events :
Corporate events: Seminars, Team building, Family days Private events: Birthdays parties, Special occasions in the life of a family,…. Concerts, Theather, Exhibitions.
On the off chance that accomplishing an unassumingly estimated case requires a 270m decrease in water resistance, it's nearly not justified, despite any potential benefits. What am I missing here? Is the caseback not screw-down? Does the crown lock not work? I don't get it. For an organization known and based on jump replica watch history, I don't perceive how they can even discharge a watch with this sort of resistance.
Latest news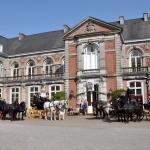 St.George's celebration
St.George, patron of the riders, on April 22 2019. You will be able to spend a day in Presles, admiring the carriages of the past ... [more]